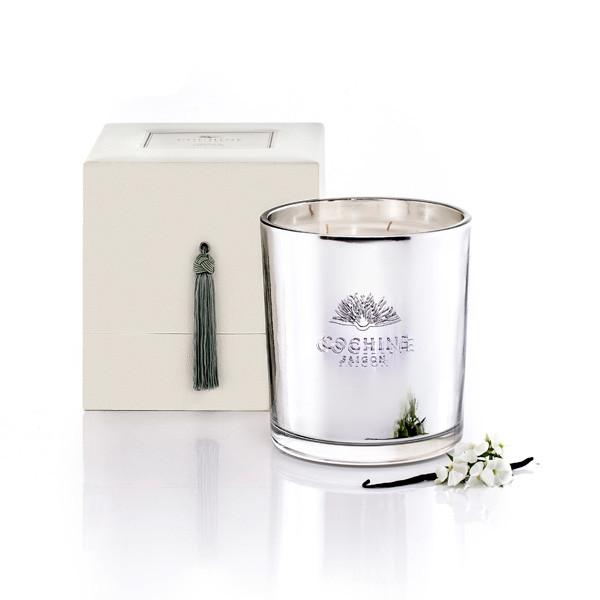 香子兰豆的经典香调配以一抹温暖的广藿香,再加入迷人的烟草花,令香气衡轻柔,叫人迷醉。小豆蔻、肉豆蔻和罗勒等色彩强烈的植物,常见于越南当地热闹多彩的市场摊位上,处处散发着浓郁芳香,借助它们的微微辛辣,令香氛整体更见层次丰富而性感迷人。


Cochine 4-wick candles are made using the finest essential oils, eco-friendly cotton wicks and the creamiest botanical wax from renewable resources. We are dedicated to using this more natural alternative to paraffin wax. Elegantly packaged in Cochine signature gift boxes, Cochine candles will add style and luxury to any home. With over 130 hours' burn time, Cochine candles will gently infuse any room to create a delicately evocative and inspiring atmosphere.
Additional Information
Presented in a tailor-made silver glass with embossed logo and matching lid
100% botanical wax gives a clean and even burn
Over 130 hours' burn time
7 in. / 18cm high
91 oz / 2.6kg
How to use
Containing a very high fragrance content, Cochine scented candles are a stylish way to enrich your home with the luxurious ambience of sun-warmed Saigon.
Remove all packaging before lighting the candle. We recommend burning Cochine candles for a minimum of 2 to 4 hours. Allow the wax to solidify before relighting and keep the wick trimmed to 1/4 inch / 6mm, this will prevent any sooting.
Do not allow the candle to burn down completely and always place a burning candle on a flat, heat resistant surface, away from flammable materials. Due to the high content of essential oils, some discolouration of the wax may occur. Never leave a burning candle unattended. Keep candles out of the reach of children and pets.