Vanille & Tabac Noir 香草與烟草花
cochine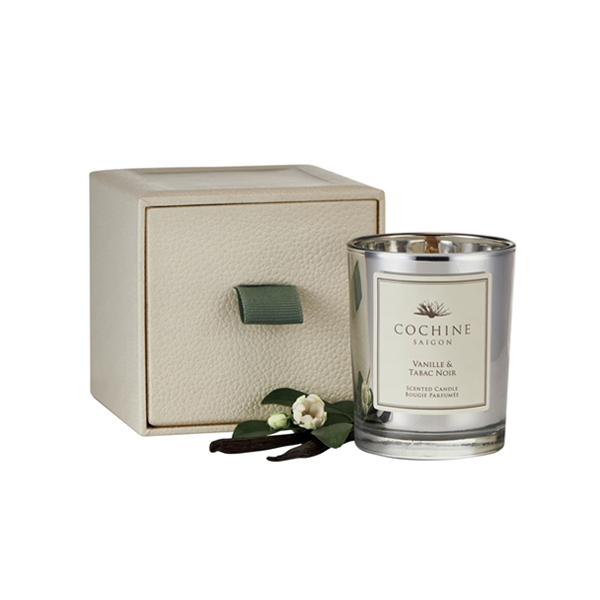 Classic notes of Vanilla Bean and warm hints of Patchouli are balanced with soft, sensual tones of Tobacco Flower. Extracts of Cardamon, Nutmeg and Basil, plants rich in colour and scent that swirl in the vibrant market stalls of Vietnam, lend a delicate spiciness to create an overall effect that is rich and sultry.
所有Cochine的蠟燭,也是以最高品質的、符合道德原則的、對環境可持續發展的原料在越南製成。每根蠟燭均採用最綿密幼滑的植物蠟,以可再生能源製成。我們致力使用這種更自然的原材料替代石蠟。蠟燭亦配上高效能的環保棉燈芯。我們的包裝物料有九成取自回收物料。
附加信息
65克,可燃燒約15小時,香薰含量極高
植物棕櫚蠟,環保棉芯採用可持續原料製成
如何使用
Containing a very high fragrance content, Cochine scented candles are a stylish way to enrich your home with the luxurious ambience of sun-warmed Saigon. Remove all packaging before lighting the candle. We recommend burning Cochine candles for 2-4 hours. Allow the wax to solidify before relighting and keep the wick trimmed to 1/4 inch / 6mm, this will prevent any sooting. Do not allow the candle to burn down completely and always place a burning candle on a flat, heat resistant surface, away from flammable materials. Due to the high content of essential oils, some discolouration of the wax may occur. Never leave a burning candle unattended. Keep candles out of the reach of children and pets.
Shipping